---
Spring Fishin & The 5'' RattleSnake'O - Just Plain Deadly!
---
Fall Fishing is about to... light up!! Be ready!
---
Alabama's Cindy Smith & The 8" MegaTail RattleSnake - Black Neon
Blog Post and Pics Here...
http://www.grandebass2.instantecom.net/blog/2013/8/Alabama-s-Cindy-Smith-the-8-GrandeBass-Megatail-Catch-Bass-
---
Pro Staff Member, Donnie O'Neal Catches the unthinkable combo on one Cast....
http://issuu.com/lsoneditor/docs/may1013?mode=embed&layout=http%3A%2F%2Fskin.issuu.com%2Fv%2Flight%2Flayout.xml&showFlipBtn=true
---
Donnie O'Neil Captures 6th in FLW Lake Texhoma
http://www.flwoutdoors.com/bassfishing/afs/tournament/2013/6964/lake-texoma-headline-story/154791/reneau-runs-away-with-texoma-win/#.UZwrHqLvtDQ
---
Lake Fork Guide, Bass & FLW Pro Lance Vick & The Amazing RattleSnake'O
Catching dozens of bass from 5-9+ lbs and roughly 120 bass this week with the RattleSnake'O from water depths from 6-2 feet, it just doesn't get any better. Read More...
---
GrandeBass Helps Catch Texas Toyota ShareLunker #421, 471, 481 & Now #548
#548 - 13.28 Lbs... 8" MegaTail RattleSnake
http://www.grandebass.com/blog.html
---
Great 2013 Start for Jamie Slayden & the 4.5" RattleSnake. Jamie lands this 12.1 lber on Lake Austin on February 10, 2013. Jamie took his personal best on the same lake and same bait two years ago landing a 12.4 lber...
---
Tom Lorden and Andy Zavala top 127 teams and win $4,000 on Lake Travis with 17.58 pounds on the GrandeBass 4.5" RattleSnake & Mega Claws at the TTZ Season Opener...
And improve it did as it took over 17 pounds to win, 15.11 pounds to finish in the top five and a 7.51 pound fish to claim Big Bass! Tom Lorden and Andy Zavala were among the first to the scales and brought in a limit weighing 17.58 pounds, their lead endured over 100 teams but finally held up to earn them $4,000.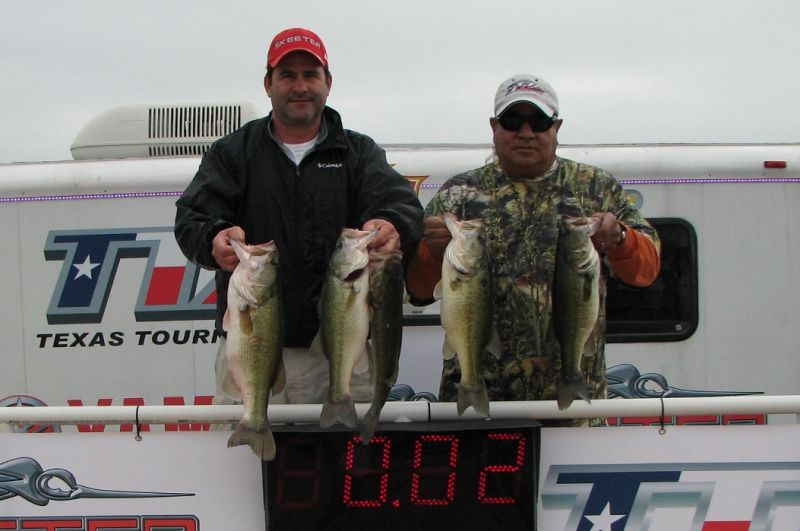 It didn't take them long to start putting the right kind of keepers into the boat on a variety of soft plastics, but they fished one bait for most of the day and it paid off.
"Andy and I were catching a good number of fish on Texas rigged Trophy Hunter GrandeBass RattleSnakes; we were sitting in deeper water, casting extremely shallow and slowly working the bait all the way out to 20 foot. We had a limit by 10 am but the bite died off quickly after that." More www.ttz1.com
---
Ritter Ferguson Wins FLW EverStart with help from the GrandeBass RattleSnake.
http://www.flwoutdoors.com/bassfishing/afs/tournament/2012/6768/lake-of-the-pines-headline-story/154186/ferguson-sweeps-lake-of-the-pines/